On March 03 2021, our community had a chance to welcome Mr. Gautham J and Mr. Viviek Prasannan to join an AMA to give fruitful information about key features and the roadmap of of Polkadex - a fully decentralized, peer to peer cryptocurrency exchange for DeFi ecosystem.
This AMA was held by Maru Nguyen from CryptoFamily Group – top crypto trading community in Vietnam, where investors and traders can obtain the lastest news and signals from bot/ admins, as well as discuss and share investment experiences in the crypto space.
At this AMA, CEO and Executive Director of Polkadex warmly greeted the community and provided detailed information about the project and its key features, as well as some exciting news and hot events will be taking place in the near future.
Time: 9:00 PM (UTC + 7) on Friday, March 19th, 2021
Venue: https://t.me/CryptoFamilyGroup
Airdrop 100 USDT for the best questions in the AMA.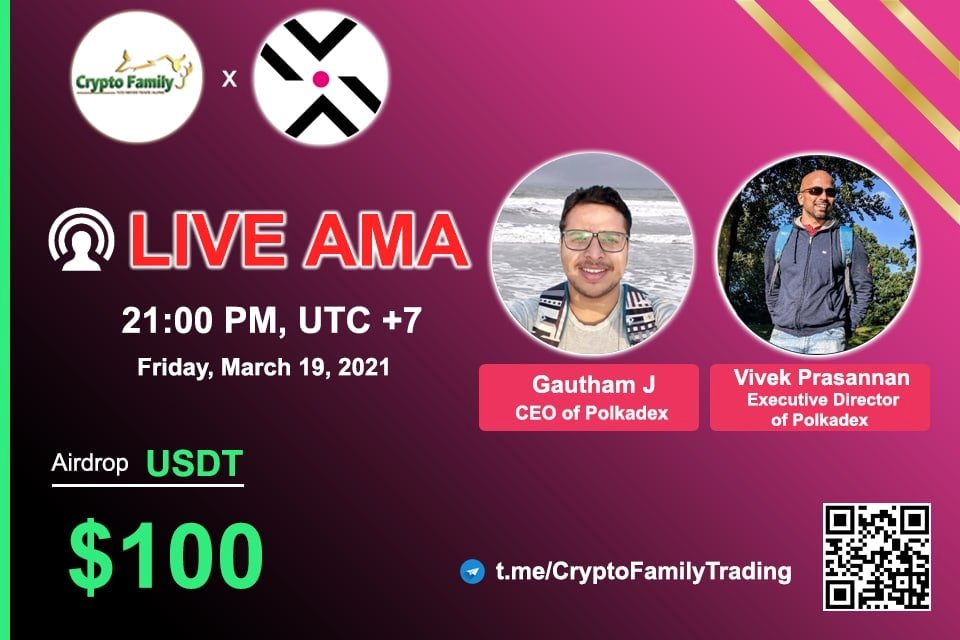 Below are some main points of this AMA session:
PART I: OVERVIEW QUESTIONS
1. First, please give us an overview of your team and Polkadex. What are some technological improvements that make Polkadex ahead of other DeFi projects?
Mr. Gautham: I am Gautham J, CEO of Polkadex, I also oversee the technical development and work hand in hand the engineers and the business development teams at Polkadex.
Mr. Viviek: I am Vivek, Executive Director and co-founder. I take care of mentorship, technical discussions, legal and regulatory aspects of the project.
Polkadex is formost a decentralized application specific network, not a company. Polkadex crypto exchange sits on top of this. It solves the following problem:
1. Zero counter party risk. Middlemen like binance.com hold your crypto. Polkadex is non custodial. There is no company holding your funds.
2. All transactions verifiable on onchain and scaled in layer2. Peer to Peer signature driven settlements. Zero gas fees aka network fees to transfer and settle funds.
3. Great UI/UX with less than 20ms latency needed for bots and market makers.
4. Free and open source with Apache 2.0 license. No proprietary code anywhere. Fully verifiable. Similar to telegram.
5. Fully decentralised and governance driven. No company needed for taking critical decisions! Read about DAO. Indestructible, just like Bitcoin.
2. Please share with us the vision and goals of Polkadex in the near future.
Mr. Gautham: Polkadex will be launching the token next month as ERC-20 token. In May-June, we will launching the final testnet of Polkadex, we will be going for a security audit in July and finally launching in Aug 2021. After our mainnet is launched, community can transfer their ERC-20 token to Polkadex Mainnet. Polkadex will also have brand ambassador programs to involve the community in the growth of Polkadex exchange.
3. Are there any upcoming plans or hot events to attract more users in the Vietnamese market?
Mr. Vivek: Yes, ofcourse! We will have ambassador programs for the vietnamese region and will also have NFT collectibles that can be earned by early backers of the project involving in the polkadex exchange. There will be specific milestones like largest volume trader, etc. More news will be shared soon!
CF: Thanks very much for the introduction. I believe all the members here would love to hear more about this super hyped project, and they have many questions submitted on Twitter today!
PART 2: PRE-COLLECTED QUESTIONS FROM TWITTER
1. Is everything going according to the Roadmap? Are there any technical barriers that you think could pose limitations for mass adoption and expansion of Polkadex? @Tran2886171477
Mr. Vivek: So far everything is going as per the roadmap, however, the token launch will be extended to mid April because of two independent security audits we are planning with Omniscia.io and halborn.com.
The challenge of moving users who are comfortable in Ethereum ecosystem will be our biggest challenge.
However, many new features like feeless transactions and no frontrunning with native token support for Ethereum etc will be irresistible to any user who actively trades in swap protocols.
2. The current testnet transaction throughput of 300 TPS. You plan to improve this speed to 20,000 transactions per second. What developments do you want to achieve this and in how long? @john_labby
Mr. Gautham: Polkadex had a some recent leaps in technological development in February that enables us to scale like centralized exchanges at the same time without sacrificing security or custody of user funds.
When Polkadex launches it will be able to support 500K trades per sec on the orderbook and 2000 feeless swaps per sec on the Polkapool. All this is possible using a technology called Software Guard Extension.
Also, It allows us to have 20ms latency for market makers placing orders into Polkadex Orderbook.
In short, Polkadex Orderbook can provide a centralized exchange experience with support for trader's favorite trading bots, etc for tokens in Ethereum, Polkadot and new tokens issued in Polkadex too.
3. Many new protocols only seek to be one more fork of Uniswap, even knowing of the multiple problems that characterize it, but if PolkaDex really seeks to create your perfect Dex exchange,you will only have to solve the problems of Uniswap or do you need even more improvements@Dorothy279knot
Mr. Vivek: We will not only solve the problems with uniswap but extend its functionality to an orderbook dex which will support high frequency trading yet allow non custodial asset exchange. All transactions are first allowed through a Trusted Execution Environment TEE supported by intel SGX processors using which we make sure no operator in the layer2 solution is able to tamper with user balances thus ensuring non-custodial interactive interface with excellent interface with response time in the sub 50ms. Thus we extend the success of uniswap protocol to an orderbook based decentralized exchange that walks and talks like a centralized exchange but with all the benefits of decentralized security!
4. Can you please explain more about Polkadex feeless transaction model? Does it aim to take away the power to control the order of execution, allow faster trade execution times and give equal opportunity to users? What is the technological principle behind it? @Siena1820273
Mr. Vivek: Polkadex will decouple the order of confirming swap transactions from gas fees, which essentially means nobody can pay a higher gas fees to make changes to the execution order. This will also help to avoid front running of orders. Polkadex will thus be the first bonding curve DEX to allow feeless swaps. This allows equal opportunity for all users thus democratizing the entire process. The technological principle behind it derives its logic from Substrate's governance pallet.
5. Without a doubt, the POLKADEX token will have great potential in the market. Could you tell me a little more about this token? And I really would like to buy it, where and how can I do it? @MdRipon49
Mr. Gautham: Polkadex token is used to pay fees in Polkadex orderbook, traders can have lower fees if they are paying in Polkadex tokens. Polkapool (our AMM) provides feeless swaps only if the traders have Polkadex token staked in their wallet. Polkadex token is used in On-chain governance that determines which token needs to be listed in Polkapool.
Tokens can also be used traders for nominating Polkadex validators and earns block rewards
Tokens can be staked by Validators for getting 10% APY.
Finally, Polkadex Tokens are involved in getting Polkadex NFT which provides special status for traders in Polkadex network like zero trading fees if they have that NFT.
By the way, you can buy the polkadex tokens at the TGE event scheduled for mid April.
CF: That's the end of Part 2, I believe all of the members here have gathered enough useful information, also they have many questions to exchange with you today.
In the next part, all members will have 2 minutes to make questions for Polkadex today. Feel free to ask and they will explain gradually in their answers.
PART 3: LIVE QUESTIONS
1. Don't you have plans adding deflationary mechanism in DeFi platform? What is the total supply?
Mr. Vivek: The token is deflationary because its fixed supply at 20M.
2. Would there be a need for more team members and ambassadors and also what can token holders earn? Are they any provisions for staking?
Mr. Gautham: Yes, Polkadex support staking and nominators and validators can earn block rewards. The brand ambassadors will be given NFTs that has special properties such as feeless trades in Polkadex, earn rewards every month from Polkadex treasury etc.
3. What is your plans in place for global expansion, are Polkadex focusing on only market at this time? Or focus on building and developing or getting customers and users, or partnerships? Can you explain this?
Mr. Gautham: Polkadex is a network so anyone in the world can use it. Polkadex Brand Ambassador program is specifically intended to increase the community and give back to the community as we grow.
4. There are 3 core issues prevalent in crypto and blockchain: Security, Interoperability, and Scalability.
So how does your Project plan to overcome these issues?
Mr. Vivek: We are addressing all 3 core issues.
1. Security - Polkadex is a non-custodial exchange
2. Interoperability - Polkadex can connect trustlessly to both Ethereum and Polkadot ecosystem.
3. Scalability - Polkadex supports High frequency trading and execution latency is less than 20 ms.
5. Does the price of the token matter to you from an operational perspective, if the token price is $1 or $100 ?
Mr. Gautham: We can uncoupled tokens from trading activities this means the increase in token price will effect the traders who trade. For example, feeless trades of Polkapool.
CF: Thank you so much for taking your time to join our AMA today, as well as thanks for hundreds of good questions from our community!
Seems like there're many things to exchange, but I'm afraid the time is up now.
For all of the questions that have not been answered yet, guys feel free to search for more information on the links I provided below:
Website: https://www.polkadex.trade/
Twitter: https://twitter.com/polkadex
Medium: https://polkadex.medium.com/
Telegram channel: https://t.me/Polkadex
Telegram Vietnam group: https://t.me/PolkadexVietnam